My name is Christopher McQueen. I am the Director of UX and Service Design at The UX Agency.
Please… Call me Chris…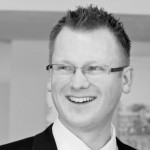 Whilst I love creating great stuff for real people, I'm also a real person myself – you see, there's even a picture of me! 
I'm 35 year old Northerner who moved to "that there London" a little over 12 years ago. I now live in the lovely leafy suburb of Thames Ditton with my wife (who likes to go by the name of Elizabeth) and our daughter (who likes to go by the name of "Raaah") but who we prefer to call Scarlett.
In my spare time, I take lots of bad photographs, watch many great films and cook frequently mediocre meals.
My work
My work covers a wide range of e-commerce, gaming, e-learning and finance across web, software, intranet, tablet and mobile devices. I specialise in the remote research and user experience design of enterprise applications.

My 12 years experience as a user researcher has spanned agency and client-side teams across multiple domains. I've worked within finance leading UX design and research within Deutsche Bank's Global Transaction Bank and I've provided UX support to PayPal's credit team. I've also had the pleasure of working with Betfair on their exchange across mobile, tablet and desktop devices. Other clients include The UX Agency (working with Audi, McDonald's and Razorfish), The Team (focusing on GlaxoSmithKline's intranet), Iris Digital (with clients including Shell, Cathedral City and Sony Ericsson), Transform (focusing upon the Argos checkout) and Xerox.
What does a Digital Product Designer do?
I get into the nitty gritty of research, design and delivery. I work with teams from early product concepts through to implementation and optimisation. I cover all areas of the enterprise application development lifecycle which includes discovery, conceptualisation, testing and implementation.
My full lifecycle involvement includes:
Planning scopes of work within 'Lean', 'Agile' and 'Waterfall' contexts.
Gathering insights by way of contextual inquiry, ethnographic research, interviews and observational studies.
User research through remote user testing, card sorting, concept testing and in-person product usability evaluations.
Facilitating workshops to analyse and synthesise research into meaningful product requirements, user journeys and personas.
Designing and iterating interaction designs and prototypes.
Supporting development teams throughout implementation, facilitating feature prioritization and creation of user scenarios.
Measuring success, tracking feedback and conversion rate optimization.