Background
This Intranet UX project was completed during my time with The Team, a London based and multi award winning digital agency.
As part of The Team, I served as a User Experience consultant on GSKs redesign of their pharmaceutical intranet. The particular research focus of this project was on their distributed workforce and nationwide Sales teams.
The images displayed in page are intentionally small. If you'd like to learn more, then please get in touch.
Topics
User Research
Stakeholder interviews
Contextual inquiry
Online surveys
Card sorting
User journeys
Concept development
Usability testing
Project description
At the start of this project, it was important to gain an understanding of the research requirements. The GSK stakeholders had a good understanding of what they felt needed addressing with their intranet. It was therefore important to capture all of this specialist subject matter expertise through a series of stakeholder interviews. With assistance from The Team's UX Director, 12 stakeholder user research interviews were conducted.

In parallel, through an expert review, an evaluation of their analytics and a content audit, I explored the current intranet's interface to understand its usage and where the user research activities should be focused.
From this initial phase, it was clear most of the research would take the form of qualitative study. As a result I created an online survey was set up to capture more objective feedback that otherwise couldn't be reached in-person. With a small competition based incentive to encourage participation the survey received over 420 responses; providing some great insight and baseline metrics.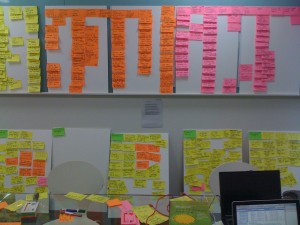 With clearly defined goals in mind, contextual inquiries were conducted across with team members from GSK's nationally distributed salesforce. This was particularly fruitful as I was a complete novice to pharmaceutical sales, therefore a good "expert and apprentice" rapport could be established with each member of staff. As a result, the contextual insights gained were far richer than a typical user research interview.
Distilling all of these findings from multiple inputs was achieved through "war-room" style workshops with other members of The Team's UX and user research  team. Results were then played back to key stakeholders through a series of walkthroughs and presentations highlighting areas for improvement and possible concepts for further exploration.
High-level design concepts were generated to address some of the key issues highlighted, and each were validated through rounds of concept usability testing.

The project outputs were delivered in two parts. First, a user research insights report covering all of the key findings was produced. Second, a UX compendium document including design ideas for intranet improvements, a revised intranet sitemap, and a series of page templates from which GSK could better structure their content.